Snowshoeing in Canmore, Alberta
RYAN CANCILLA
CANMORE, ALTA. — My adolescent dream of being a coureur des bois, an unlicensed fur trader navigating the Canadian wilds with nothing more than a pair of snowshoes and a few provisions while circumventing the law, was briefly awakened as I snowshoed the Lower Lake, Spray Lake, and Hogarth Trail in Canmore, Alta.
A few things were different than my outlaw fur trading dream, however. First, the snowshoes aren't Palaeolithic tennis rackets fastened to your feet with ratty leather and rusty fasteners.  The shoes we borrowed from Mount Engadine Lodge were easily affixed to our feet.
They can seemingly accommodate any footwear you happen to be wearing and they offer an agility the former shoes didn't. They also have snow-gripping teeth on the bottom that permit you to navigate ice fearlessly, which was handy as we walked along the Lower Kananaskis Lake.
Today's trail mates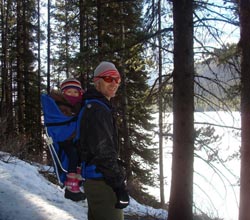 Ryan Cancilla and his daughter, Aria, pause to take in the scenery while snowshoeing in Canmore, Alberta.
Photo courtesy ROSALIA CANCILLA
The second difference was the company of my wife, Rosalia and our daughter, Aria. I would imagine the glory of independently taking to the woods and outrunning the law can be easily eclipsed by the pleasure of taking a walk with your family or friends in the majesty of the mountains.
However, after 10 minutes of shoeing rhythmically, crunching snow and ice underfoot, my usually lively daughter turned into 30 pounds of deadweight on my back. The equivalent weight of some pemmican and a couple of beaver pelts I figure.
I'm sure one thing remains the same. The mountains and the woods we walked in seem indifferent to time. 
A wealth of winter landscapes
We walked along the rim of the Lower Kananaskis Lake and listened to the thundering booms of ice retracting in the thaw. We felt the crisp air and the warmth radiating off the lake. The Hogarth Trail gave us the experience of winter as we walked the rim of the lake while intimations of spring gurgled underfoot as we forded small rivers.
The Spray Lake meadow afforded views of peaks of surrounding mountains that would have to wait for another time.
The snowshoes that clutch my outlaw heroes' and my feet make these impenetrable trails accessible; without them, these walks would be impossible. The quiet of the woods and the perception of an uninhabited frontier ahead still make for the possibility of discovery.
Perhaps what is to be discovered differs between the coureurs de bois and myself, but discovery remains and snowshoeing is an apt antidote to the cabin fever that is common to all of us northerners.
Share this story if you think Canmore is the best!