DOC POW
FERNIE, BC — As a Canadian I am very invested in beer (I'd suggest it's a bond that ties us as Canadians together), so when my buddy Rick MacDonnell and I had the chance to get in the action at one of Canada's most character-filled breweries we couldn't resist.
The Park Place Lodge, in downtown Fernie, British Columbia, is in cahoots with the Fernie Brewing Company every Thursday night, and they are serving up a pretty exceptional experience. It's a brewery tour with a culinary twist. The package includes a scrumptious dinner, taxi service to and from the brewery, a tour with tastings and a few extra frosty bevies from the friends at the Park Place.
Highly recommended
It makes for a perfect night out and one I'd certainly recommend the next time you are in town.
Time at a pub with a frosty ale and a great plate of food is always stellar, especially if you are kicking back after a huge day of snow-filled adventures. It's even better when there is beer in the food too; it makes for a taste combo we certainly enjoyed.
The Park Place kitchen serves up some favourites with a little brew brewed in. I went for the chicken Asad - which was served with roasted veggies and rice while the bird was marinated in the Fernie Brewing Company's Rocky Mount Lager. MacDonnell went for the Grizzly Pale Ale Battered Fish and Chips.
Locally brewed, locally owned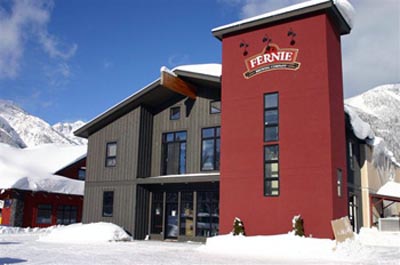 The Fernie Brewing Company and the Park Place Lodge offer a special dinner and brewery visit every Thursday night.
Courtesy FERNIE BREWING COMPANY
"We are all locals. I was born and raised here. Our family enjoys making something by hand, the process is something we love," said Lenka Hawrys, marketing manager, The Fernie Brewing Company.  
That love and care going into her family's brews is translating into sales; the company's seen a 40% increase in its business for the past five years. The line of barley gold includes The Griz Pale Ale (named after the famed character who oversees the snow on the mountain), First Trax Brown Ale and the Rocky Mountain Lager.  
For Hawrys, when asked about why someone should visit Fernie –next to getting in on some great beers – her answer was simple, "POWDER."  You do not have to be a guest of the Park Place to get in on the action (even though it's a great place to stay with both an indoor pool and hot tub) but they can certainly give you more information on the tour. 
For more on the Fernie Brew Company, which offers tours any time, visit the website at www.ferniebrewing.com
For more stories and detail on Fernie check out our SnowSeekers' destination page.